HAVE MERCY ON OUR HERITAGE
A female colleague came up to me today asking when I was to return to Cebu. Having just arrived from a quick trip there last February, I am still regretting that the humidity kept me from strictly adhering to my planned itinerary.

She also mentioned that she was brought to Aranos, my 'secret' restaurant, by a friend of hers. How shocking, really, to know that what used to be known only to a handful is now accessible to Manila people as well! Not being snobbish about it (yeah, nice try Dylan!) but it's only one of the very rare places where you can have a quiet decent meal served to you by the owner's lovely kids, and chat with the chef using your nivel cuatro español and not feel too embarrassed by the attempt (He speaks a better version of Cebuano than what Manila visitors call their attempt at inculturation).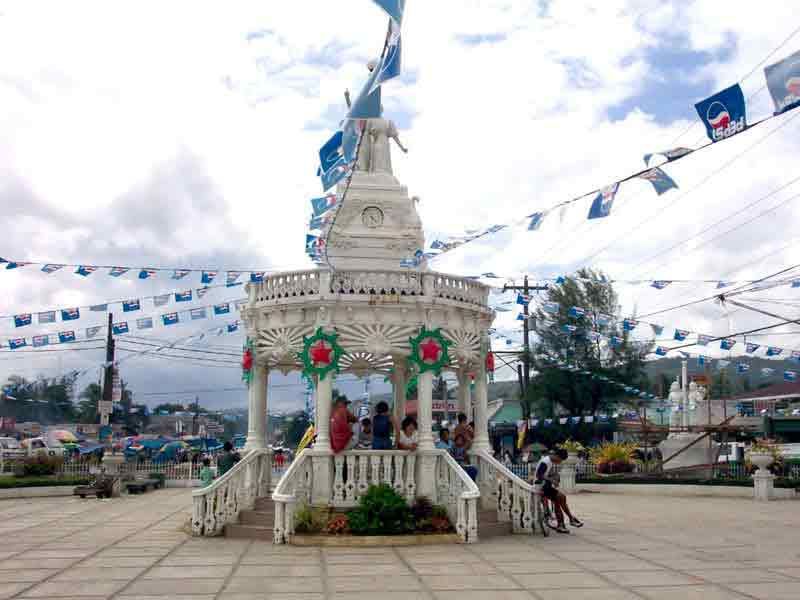 The welcome rotunda when one reaches Carcar, south of Cebu City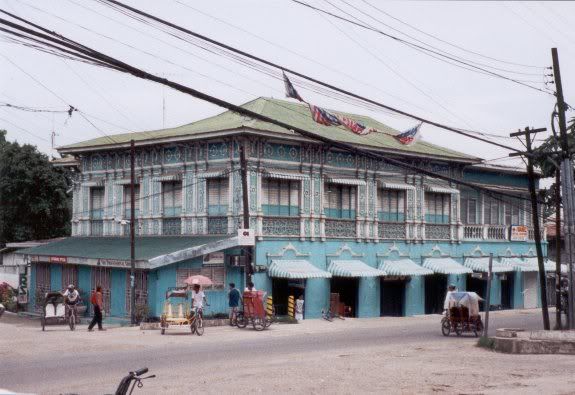 A Spanish-period house in Carcar's town proper: creative reuse is possible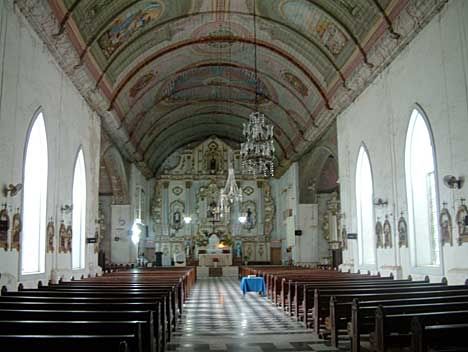 Cebu's churches remain unscathed from artistic adventurism by ignorant churchmen

But what struck me was the comment that Cebuanos have this penchant in transforming old houses into restaurants or something useful. A-ha! Finally, a good reason to get back at Manileños for taking over our 'secret' lair, tee hee.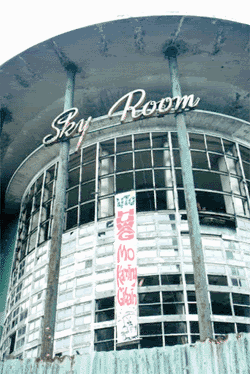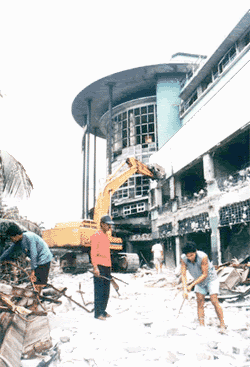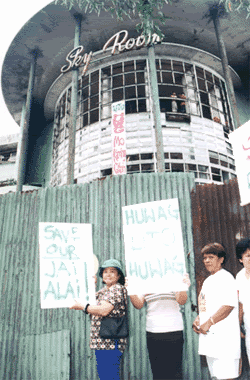 Images from the destruction of Manila's SKY ROOM; with protesters

If the destruction of the Jai Alai building and the continued abandonment of Spanish and Americal colonial homes in Manila are any indication, one can simply deduce that Manileños have no amor at all for cultural heritage. The same can be said of Capampangans when, to our great horror, we saw this vacant lot in San Fernando on which the grand mansion of Jose Abad Santos used to stand. But we used to walk pass that house everyday when we were kids and marveled at how terribly huge the house was! The marker of the National Historical Institute didn't even save it from commercial encroachment.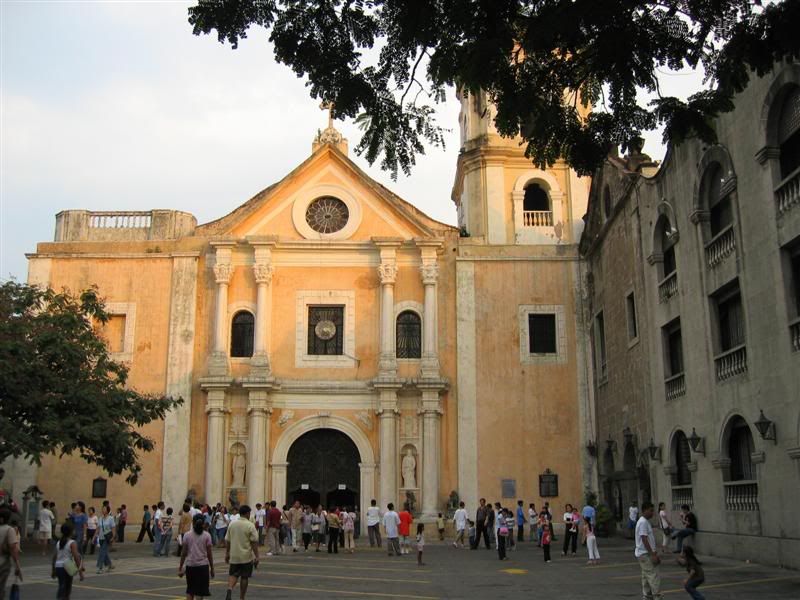 The San Agustin, the Philippines' oldest church, sports its original color. It is lucky to be still standing.

Yesterday, on my way back to Manila on an FX, I saw a sign posted to a pillar of the Doroteo Jose LRT station saying, "Old houses for destruction, call us." I will not be surprised to find this sign posted on those wonderful Art Deco buildings in Sta. Cruz one day. That'd be the saddest day of my stay here, if ever.

A signboard like that in D. Jose would have caused a furor in Cebu but here? Ambot na lang dyud. How can the Cebuanos do it and not the Manileños?


Cebu's Lapu Lapu makes an appearance in Luneta: a reminder to Manileños?

You have to give it to the lilliputian groups like the

Heritage Conservation Society

to voice out their concern for the continued mismanagement of our cultural treasures in the capital but what is there that can actually be done? Nothing much, if at all. It's always the same reason: not enough or no funds.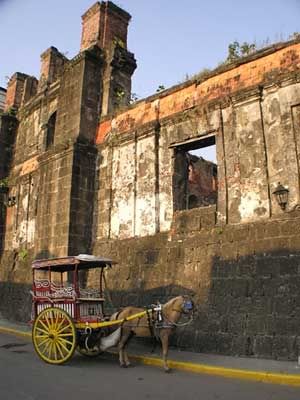 Thanks to the Intramuros Administration, a large part of the Walled City has been preserved. But wait until you see the squatter areas...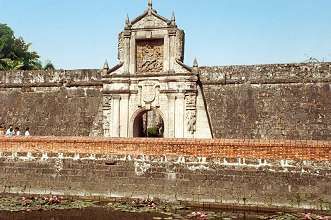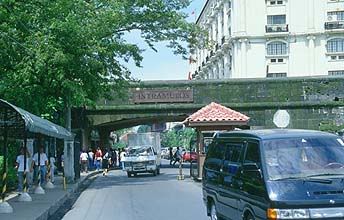 The Walled City surviving side by side with development

My verdict is: not enough imagination. Manila Mayor Atienza thinks lighting up his dying city with those horribly-expensive sparkler lamps is enough while along Taft Avenue, another colonial home gives way to a mall to house fast food joints for La Sallistas. And while father cleans Roxas Boulevard and Avenida Rizal, Councilor-son Kim Atienza, self-proclaimed art connoisseur, vandalizes the walls of Intramuros with his name in mnemonic fashion (like father, like son: Buhayin ang MayniLA, in their mad desire to inscribe their names on the city's consciousness in perpetua).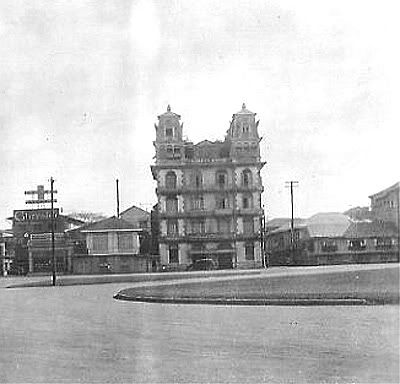 Luneta Hotel along T.M. Kalaw: is it next?

Pray, what will happen to the Mayflower Building after Instituto Cervantes moves to its new home on T.M. Kalaw? And what to do with that beautiful bulding along Roxas Boulevard that used to house the Chinese Embassy? Will they be tearing down Hotel Luneta soon? (I have yet to take detailed photos of it).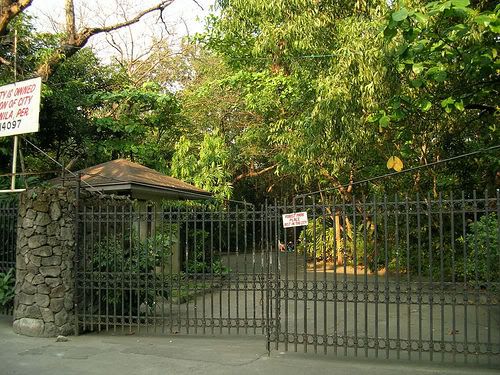 Entrance to Arroceros Park, soon to be overtaken by a Teachers' Village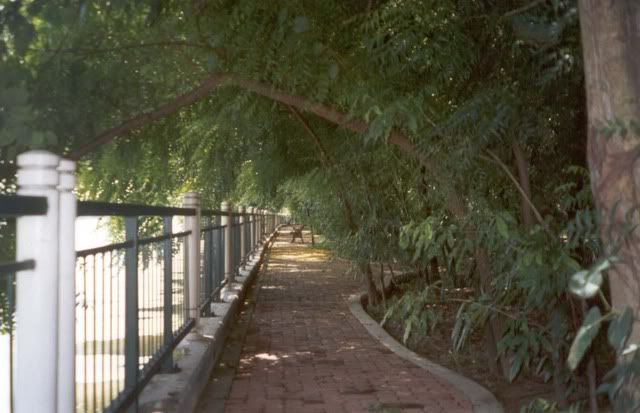 Farewell quiet days, cool shades, and fresh Pasig River breeze (yeah, right!)

Will the Manila Hotel ever to regain its former glory? Will Arrocerros Park eventually fall prey to the Mayor's whims? When will the work on the future National Archives, the erstwhile Ayuntamiento, ever be finished? The same question goes for the Metropolitan Theatre. Will the City Hall return the four Amorsolo murals that used to adorn its walls?


Manila's destruction is our collective loss.

There are too many questions asked in the City of Man but the answers are not forthcoming. I can only echo architect Augusto Villalon's call to please, please, have mercy on our heritage.


Manila Bay as seen from Roxas Boulevard: May bukas pa...