WHAT I MISS MOST
Back in my college years in the Ateneo (Xavier University), I did all things possible to be able to escape one subject: P.E. Games. I was already on my 3rd Year and looking forward to the next year during which I will assume the Presidency of the University Student Council, attend the Xth World Youth Day in Manila and do the dreaded pre-graduation thesis among other things, so I decided to advance subjects during the Summer to de-clog my 4th Year.

P.E., unfortunately,is still part of the curriculum. For the life of me, I don't know why we have to learn how to swim (trunks required) and play ball (I only know baseball and it's not part of the list). Somehow, Mr.-Curious-Me found a loophole somewhere that allows me to skip P.E.. The catch is: join the Xavier University Dance Society. Not that I was crazy over dancing but doing folkloric sounds better than wearing trunks. So, there.

In one year, I learned to do Pandanggo sa Ilaw, Pasigin, Binaylan, the various Jotas and Paseos but on my valedictory performance as dancer (ugh! *shivers*), I was chosen to perform the role of Prince in the dance-of-all-Philippine dances: the Singkil.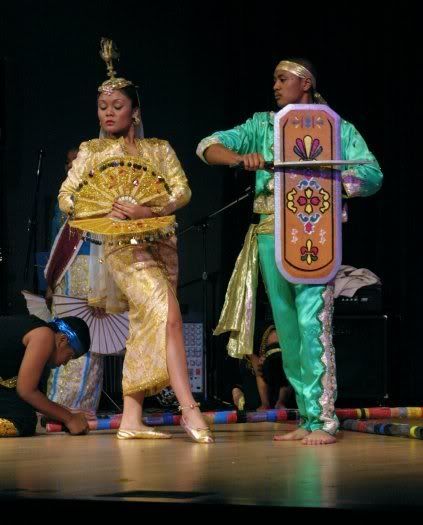 The Maranao legend of a princess skipping over falling trees during an earthquake imbues Singkil with a mantle of magic that this rousing dance scarcely needs. For with crossed bamboo poles whose claps rhythmically clash against the swirling of fans and swords and spears, Singkil weaves a spell all its own. Different interpretations of Singkil invariably present the regal boldness of a Muslim prince in counterpoint to the stoic bearing of a princess: agility, grace,ardor, a resounding climax...magic! ( by Rene Ner) Singkil is the Queen of all Philippine Folk dances!

The training was laborious, to say the least. I had to lose weight to be able to move faster (getting ipit by four bamboo poles wasn't exactly fun) and the trainor was losing his cool all the time ("Mabigat masyado mga paa mo, puñeta!!!").

I performed Singkil for the first time during the grand re-launching of the XU Dance Society to the city of Cagayan de Oro, and performed it once more (and for the last time) during the First XU Arts Festival (my brainchild as President, in lieu of the utterly brainless Miss Xavier).

Sigh. My first real contribution to the arts, circa 1996. Watching the Bayanihan perform it always brings a smile to my face.