A QUESTION IS FINALLY ANSWERED
UPDATED!!!


I have emailed Ambeth Ocampo, Chairman of the Historical Institute of the Philippines, last year with questions regarding the 'royal' sash and decorations President Arroyo was wearing in Brunei to attend the wedding of Sultan Bolkiah's son. I have yet to receive a reply.

Anyone else who might know?

President Gloria Arroyo, the First Gentleman, and former Indonesian President Megawati Sukarnoputri

This particular sash is different from, say, other sashes worn by past Philippine Presidents (others were never seen to wear any, even in official portraits):

Military sash worn by Emilio Aquinaldo

The only other President who wore one, of course, is Ferdinand Marcos. At the moment, I can't find any photos of him wearing that. Wait, will this count?

The former President in the airconditioned mausoleum in Batac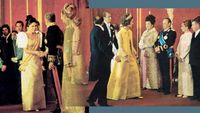 The former First Lady wearing the royal sash greeting their Imperial Majesties,The Shah and The Shahbanou of Iran
UPDATE on this blog:

Without meaning to, I finally found the answer to my questions in Manuel Quezon III's
blog
. Transcript:
___________________
Dylan Yap Gozum
July 3rd, 2005 17:28
Amazing! I've always been wanting to read on the Honors Code because there was a sash (red and gold) that PGMA was wearing during the wedding of Sultan Bolkiah's son last year and I'm been trying to look for photos I can use to identify what it was.

mlq3
July 3rd, 2005 18:09
Dylan -that was the Family Order of the Sultan of Brunei. When heads of state attend events for other heads of state, it's a compliment to wear decorations from that head of state.

Dylan Yap Gozum
July 6th, 2005 19:46
Oh, wow! What an eye-opener, thank you. Looks like I need to read more on this stuff (i'd post your reply on my blog on the subject). Since I hardly catch your column in PDI, i sneak in here when I am able. Also, I can't wait to get hold of a copy of the coffeetable book re Malacañan Palace. Once again, thanks for that one! Cheers!

mlq3
July 6th, 2005 19:58
Dylan, ganito yan. The photo of Aguinaldo has him wearing a sash as commander-in-chief, in the spanish style. But not even he adopted the Latin American habit of having a presidential sash as a symbol of office. Whenever you see a President with a sash, its the ribbon of an order. My grandfather wore the sash of the Order of the Republic of Spain during his inauguration in 1935; no president wore a sash thereafter. Your photo of Marcos has him wearing the sash of the Philippine Legion of Honor, degree of chief commander, which was given him by the AFP in 1971.
___________________

So there. I felt stupid all of a sudden but hey, this is the only way we young people can learn - from the experts :-) Thanks again, MLQ3!